Menu planning is the single fastest way to ensure you have healthy meals on the table daily for your family.
It does take some organizing & planning. But it saves you from dinner sneaking up on you every single night.
Which results in winging it.
Which results in eating unhealthy foods & spending more money than it would cost to cook.
REASONS TO MENU PLAN
To eat healthier (you know exactly what is in your food)
To save time & stress
To save money (no more wasting money with an overstocked yet under used pantry & refrigerator)
To get out of the dinner rut (no more dreading the dinner hour)
To answer the nagging question "What's for dinner?"
MENU PLANNING OPTIONS - ONLINE
You want something that is simple, family friendly, and easy to use.
If you prefer to keep everything on your phone, then we recommend the following apps.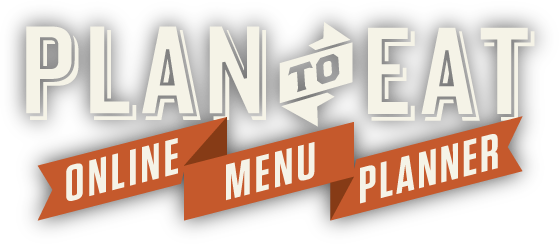 A menu planning & grocery list organizer.
Cloud based
Web clipping
Recipe importing & sharing
Menu planner
Grocery list creator
While this website does require a subscription & some upfront work on adding your recipes, it is pretty simple to use. You drag and drop your recipes into the planner & the site will create your grocery list for you.
I love the feature of customizing the menu based on # of servings.
A recipe management & menu planner app.
Recipe management
Menu planner
App based
I love that I can access the app at all times which is helpful when I'm grocery shopping (why am I buying 8 tomatoes again?) & for other people in the family (text: "hey honey what are we having for dinner?" text back: "check the menu").
I also love the drag and drop feature of the menu planner. I am a visual person & LOVE to see the week planned out.
MENU PLANNING OPTIONS - PAPER
You can download our free printable here.
Another option is to search the internet for "menu plan free printable".
Lastly - if you want to purchase a Menu Plan Journal/Book then I recommend this one by Inkwell Press.
HOW TO MENU PLAN
*using our free printable as my guide*
1) Check your calendar & fill in family activities
2) Check the weather to determine your "food mood"
Food what..? When it is snowing outside, I want to eat soup. When it is the middle of summer, I want a fresh crisp salad.
That is your food mood.
3) Plan by theme
For example: Mondays = meatless, Tuesday=mexican, Wednesday=pizza
What I love about this is each week you can try a different recipe related to that theme. But having a daily theme takes a LOT of pressure off figuring out what to actually cook.
More fun, less challenge!
TIP: Keep the themes broad so you can make it work for your weekly schedule.
4) Fill in the week with recipes
Go to your Recipe Binder or the internet for ideas.
Get creative by taking inventory of your pantry & refrigerator. Try to use as many ingredients that you already have on hand.
5) Include the location of the recipe (Pinterest - Vegan Board, Recipe Binder, Barefoot Contessa Cookbook pg, 34)
6) Place it where all can see.
We display ours on the refrigerator using magnetic clips.
7) Create your grocery list from each recipe & it's respective ingredient list.
TIP: Set a reminder in your phone to check the plan daily at ____ time so you don't get caught at 5pm with a Crock Pot mean or unthawed meat. It is pointless to do all this planning but still call in takeout because you forget to check the menu & plan accordingly.
WHAT IS A RECIPE BINDER
The recipe binder is a sacred place for all your tried, true, and loved recipes. You don't want to clutter it up because the purpose is to simplify meal planning.
Everything else (your cookbooks, Pinterest, magazine) are recipes to try.
You will need:
1" - 2" three ring binder (depending on how many recipes you have)
Tabbed dividers
Recipes
How easy is that!
You can organize by category (breakfast, lunch, vegetarian). Or you can organize by theme (mexican, pizza).
TIP: Organize your Pinterest to resemble your binder. One board for each section.
Hole punch your favorite recipes and place them in their respective sections.
Add new recipes that you've tried & loved from the internet (delete from the Pinterest board if it is now a tried & true), magazines, cookbooks.
Remove any recipes that no longer make the cut for you & your family.
The binder is the "home" for your recipes. It keep them from being scattered which makes menu planning that much harder.
Happy menu planning & happy organizing!
TO LEAVE A COMMENT FOR TODAY'S POST: HEAD OVER TO OUR FACEBOOK PAGE.
Until next time...